IOMBA Business Tournament 2014
On Saturday 22nd November the IOM Badminton Association's first ever business tournament took place at the NSC. The event saw 8 business teams from around the Island take part in an afternoon of badminton matches organised in a round robin format with each team consisting of a Ladies, Mens and 2 Mixed doubles teams. The afternoon was a great opportunity for new players to get involved in badminton and meet new people, and the event showcased some fantastic badminton.
The IOMBA organised qualified umpires to assist with the running of the event as well as members of the Association. Sarah Corlett, Chair of the IOMBA confirmed 'On behalf of the Association I was delighted to see so many people of different ages and abilities, all competing in our sport with good spirit. It proves that badminton is a sport for all and can be great fun as well as a super way to get and keep fit'.
The tournament winners were Lloyds Bank International with Lloyds Bank as runners up, with each participating business team awarded with a certificate. The tournament included over 40 new badminton players who can continue on within a local badminton club.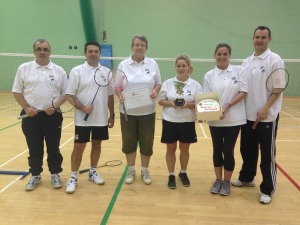 Winners: Lloyds Bank International
Other team competitors.